Vintage & Modern Tech Blog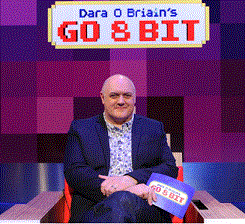 Dara O Briain's  Go 8 Bit, returns to British television channel Dave for a third series on Monday 12th February 2018 at 10pm.
The often hilarious show sees celebrities battle it out against each other at video games from the 1970's to the 2010's.
Previous episodes in the first two series have included competitive matches of Pong, Combat, classic Tomb Raider, and Micro Machines.
The new series kicks off with Gregg Wallace and Jodie Kidd playing Spy Hunter, Battlefield 1 - and something called Dara's Buttery Spuds.
At the time of writing this article (9th Feb 2018) the first episode can also be watched early online from UKTV Play HERE.
Please reload