Vintage & Modern Tech Blog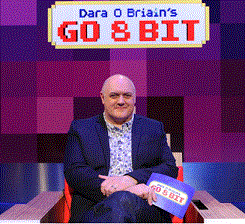 Dara O'Briain's game-centric TV show has just come to the end of it's second series on UKTV Channel Dave and, although it might be better described as 'Go 16, 32, 64, and occasionally 8 bit' the show dishes out plenty of fun and laughs to keep any retro gaming fan happy for an hour each episode.
Besides why stick with just 8 bit? With 4 decades of video games to cover - this show could potentially never run out of material.

Parallel's with the 1990s show Games Master are sure to be drawn - O'Briain is the new Sir Patrick Moore and rather than being a special effect - oversees all events from his pixellated throne, which looks like something off the bridge of the Starship Enterprise, while gaming expert Ellie Gibson turfs out hilarious, often outrageous witticisms at various intervals from her own gaming throne, that makes her look like a more-attractive creator of the Daleks. But, it's the games that get the suckering as Ellie brings us all up to date on the often quirky past and present of the next game to be played be it Donkey Kong, Sonic, or the latest 3D realistic racer.

The basic premise is that rival team Captains Steve McNeil and Sam Pamphilon are each accompanied by a different celebrity for each show. The studio audience vote for which team they think will win, and the largest percentage is translated into points e.g. McNeil 64% Pamphilon 26% - the winner receives 64 points.

Some of the biggest laughs are to be found from the player's emotional reactions to the games - some are just there enjoying themselves, while others (Steve McNeil, ahem!) look like they just witnessed the destruction of the Planet Alderaan when they lose. It could honestly make you wonder if they're being paid on a 'per win' basis. Or maybe my old schoolfriend from the 1990s, who used to half-unplug the player two controller to win against me at Super Mario Kart is lurking somewhere in the studio and that's what is annoying them!

A personal favourite of mine is the part of the show where they supersize a game, for example Alex Kidd played with a giant D-Pad or a game of Armour Ambush controlled by giant Atari VCS (2600) joysticks, or another game controlled with wobbling gyro-chairs or mad costumes.

A companion show, named Go 8-Bit DLC involves chats with celebrities, even more laughs, and answers the ultimate question - "Is Dara O'Briain Actually Any Good At Games Himself?"

I don't do reviews or dish out points on my blog but, I would highly recommend Go 8 Bit to anyone who loves games, is interested in the history of gaming, and has a sense of humour and I certainly hope that UKTV/Dave commission a third series and many more.
(Oh, go on then - Go 8 Bit scores 5 out of 5!)
Thanks for reading.
Stephen
Please reload