New ZX game - Roboprobe/48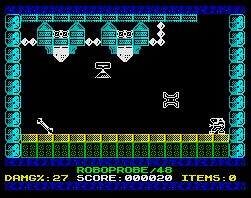 My latest creation, a futuristic sci-fi SHMUP/Collect 'em up is now available to play.
Your supply space station has been infiltrated and sabotaged by a spy.
You control a repair droid, searching for parts in order to effect repairs and stop the station colliding with a nearby planet.
You can grab the game from the Loading Screech DOWNLOADS page.
Thanks for reading!
Stephen Nichol